The Red Trinket
Director.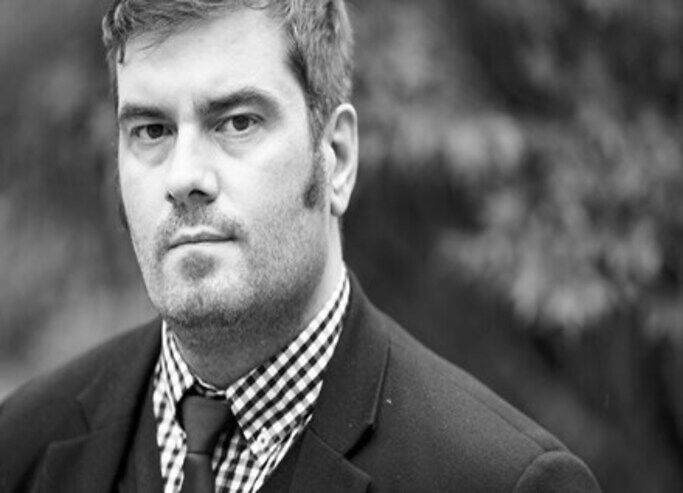 André Murraças
Portugal, 2021, 8′, b/w.
Rights: Festivals, Sales
The Red Trinket
A man receives a heart-shaped charm from a friend to put around his neck. When the jewel disappears, the man panics and cannot deal with the feelings that the gesture and the loss of the trinket arouse him. In a crazy and bloody act he will do the unthinkable.
O Berloque Vermelho (The Red Trinket) is a short story written in 1875 by António José da Silva Pinto and is considered one of the first homosexual representations in Portuguese literature. The horror tale genre at the time was the only way to present a love seen as a crime, in an alienated way and with a tragic ending.
Director.
André Murraças was born in 1976. Has a degree in Scenography at the High School of Theatre and Film Lisbon and a Master of Arts in Scenography, with distinction, by the Hogeschool voor de Kunsten, in Utrecht, The Netherlands.
He directed and wrote the webseries Barba Rija (Rough Beard) and Desabafos (Outbursts). Writer, performer and theatre director of shows like Fronteiras, O Triângulo Cor-de-Rosa, Santos e Pecadores, Teatro Noir, Sex Zombie – the life of Veronica Lake, Hollywood, More of a Man, One Night Only, An Ideal Husband, Pour Homme, Swingers, As Peças Amorosas and Words Are My Business.
After five years as an advertising copywriter, he began a career as a screenwriter for television, together with the writing teams of the telenovelas Mar de Paixão (TVI) and Rosa Fogo (SIC) – this one nominated for an Emmy. He was also responsible for the original texts and stage direction of Cabaret Repórter X, A confissão de Lúcio, 50 – Orlando, ouve, Cândida, Film Noir, and O Espelho do Narciso Gordo. In cinema, he was directed by João Pedro Rodrigues and António da Cunha Telles.
Selected to represent Portugal at Chantiers d'Europe at Theatre de la Ville with his theatre text Império and also selected to represent his country at the Sala Beckett, Barcelona, with Simon Stephens, he received three times the prize "Theatre of the Decade" by CPAI and was present at the Biennale of Young Artists from Europe and the Mediterranean. He has several published short stories and writes for magazines and newspapers. The Magazine MINI International called him one of the most promising authors of his generation.
Details.
Title
The Red Trinket
Rights
Festivals,
Sales
Country
Portugal
Year
2021
Length
8′, b/w
Director
André Murraças
Screenplay
André Murraças
Text
António José da Silva Pinto
Art Direction
André Murraças
Producer
André Murraças
Production
Um Marido Ideal
Queer Porto 2021 – Competition
Chéries-Chéris Paris 2021 – Competition
Festival Política Lisbon, Braga 2022 – Competition
Ciné Pride Nantes 2022
Rome Queer Film Days 2022 – Competition
Caminhos Cinema Português 2022 – Outros Olhares
Seoul Pride International Film Festival 2022
Coming Out Days Festival LGBT Chisinau 2023