Venus in Nykes
Director.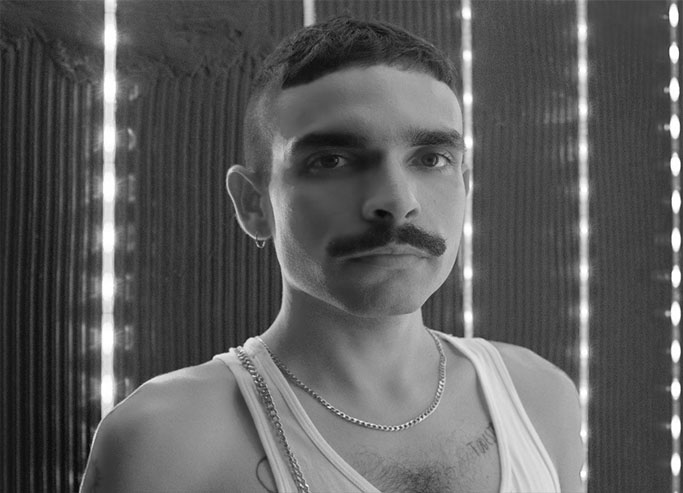 André Antônio
Venus in Nykes
Brazil, 2021, 41′, col.
Rights: Festivals,Sales
Venus in Nykes.
Darling, he came to see me again today. I end every session more shook than the last. Because, unlike all my other patients, he shows no discomfort whatsoever with his sexual freakishness. On the contrary. I maintain my diagnosis: acute melancholia and flight from reality. He goes so deep in his delusion sometimes that he imagines he's some kind of prophet. As if he was part of a cult.
Director.
André Antônio was born in Recife in 1988. He worked as a film editor for several movies from Pernambuco before founding, with filmmakers Chico Lacerda, Fábio Ramalho and Rodrigo Almeida, the independent queer film collective Surto & Deslumbramento. In 2015, his first feature, The Cult, premiered at Rio de Janeiro Int'l Film Festival and was exhibited in many international film festivals. He has now finished his new film, Venus in Nykes, and is preparing to shoot his second feature, Salomé.
Details.
Title
Venus in Nykes
Rights
Festivals,
Sales
Country
Brazil
Year
2021
Length
41′, col.
Director
André Antônio
Screenplay
André Antônio
Editing
André Antônio
Photography
Chico Lacerda
Sound
Chico Lacerda
Production Design
André Antônio
Costumes
André Antônio
Make Up
Sosha
Cast
André Antônio,
Aristeu Portela
Producers
Dora Amorim, Julia Machado,
Thaís Vidal, André Antônio,
Aristeu Portela, Chico Lacerda
Production
Surto & Deslumbramento,
Ponte Produtoras
Valdivia International Film Festival 2021 – Feature Film Competition
Chéries-Chéris Paris 2021 – Competition
Mix Brasil São Paulo 2021 – Brazilian Feature & Medium Length Competition
International Short Film Festival Belo Horizonte 2021 – Out of Competition
São Luís International Film Festival 2021
Berlin Critics'Week 2022
La Fête du Slip Geneva 2022
Lichter International Film Festival Frankfurt 2022
Rio Gay Film Festival 2022
New Horizons International Film Festival Wroclaw 2022 – Visual Front
Quelly – Mostra Nacional de Cinema de Gênero e Sexualidade São Luis 2022
Mostra Que Desejo Maceiò 2022
Luststreifen Film Festival Basel 2022
Berlin Porn Film Festival 2022
SoCine São Paulo 2022
Muestra Arder Posadas 2022
Mostra Que Desejo Rio de Janeiro 2023
Excéntrico Film Festival Valparaiso 2023
Pawilon Poznan 2023
Fringe! Queer Film and Arts Fest London 2023
Mix Brasil São Paulo 2021 – Best Screenplay Brazilian Feature & Medium Length Competition