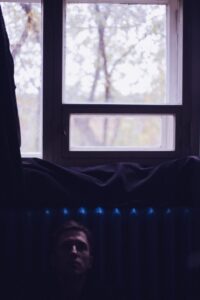 The Open Reel picks up Russian debut long feature film Parallel Lines Meet at Infinity, directed and produced by talented female director Lika Alekseeva.
The project is inspired to a short film Lika directed in 2013, entitled Draw a Line, and which was part of many international festivals, including the Cannes Short Corner.
In Parallel Lines Sasha is stalking a man. She tries to reach him to talk, or to hurt him or… What would you do if you meet a person after 15 years? Something gets on her way every time when she's close. He is a photographer, he whats to be exibited in a gallery. He scares the hell out of women to capture the fear in his works. But will he be able to stop when gotten too far? So he stands at her door.
Lika Alekseeva was born in Siberia, Novosibirsk in 1985. She studied Phylology at the University of her home town, but in 2008 headed to Moscow to change her life and start to study filmmaking. In 2012 she graduated at the legendary Moscow Higher courses for directors and scenarists, where Tarkhovsky and Tonino Guerra were teaching. In 2011 studied at a special documentary program named Summer Institute at La Fémis in Paris. In 2013 her short film Draw a Line was participating at various festivals, including the Cannes Short Film Corner, and won the Rising Star Award at the Universe Multicultural Festival in Hollywood. In Moscow, where Lika now lives, she is a founder of the Kinotex project that helps young filmmakers, organizing pitching sessions with producers and special screenings.