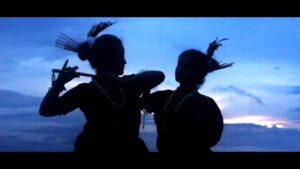 Indian first feature Capital I, directed by Amartya Bhattacharyya is now part of our Line Up for Cannes.
Capital I is an existential psychodrama revolving around a mysterious and unknown artist and depicting the transformation of mind of a young girl whereby she finds herself trapped in between realistic relationships and attractions and a strange relationship with her hallucinatory lesbian partner.
Capital I is 27 year old Amartya Bhattacharyya's debut feature film. In Capital I, Amartya plays the role of a director, writer, cinematographer, editor, poet, recitation artist, special effects artist and a painter. He is also the voice over artist for the "Philosopher".
All of Amartya's films, poems and other works are dark, mostly surreal, and psychoanalytic in nature. He names the genre of his films as 'Phychodrama'.
Before making Capital I, Amartya has made a few short films, including the poetic psychodrama Boba Mukhosh for which he won the Best Director at White Screen Film Festival 2013 and the Best Editor at Rolling Frames 2013. Also in 2014 his short social drama Niloye Jokhon was officially selected and screened at the 11th Human Rights Film Festival of Barcelona, New York and Paris. His fantasy short documentary Shiuli – In Search of my Goddess! was screened at various festivals round the world including countries like USA, England, Italy, Portugal, Germany, Belarus and Romania. Swargadwar – In Search of Heaven, his 2 minutes silent documentary was officially selected at the 10th Noussa International Film Festival 2014 at Greece and at the 3rd Electric Lantern Film Festival, 2014 at London. An experimental fantasy documentary, Benaras – The Unexplored Attachments, exploring the soul of the ancient city of Varanasi had its World Premiere at the Sahar International Short Film Festival, 2015 in February at Manchester, UK. Amartya's latest short Hoyto Kobitar Jonyo (In Poetic Hues) is there in the 'Court Metrage' section of the 68th Festival de Cannes, 2015.