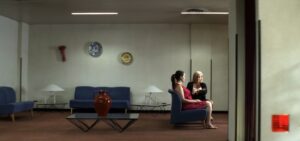 The Open Reel acquires international rights for sales and festivals' circuitation of Late Season, first film directed by Italian Danilo Caputo and premiered al last Karlovy Vary International Film Festival.
An Italian, Romanian and Greek co-production, Late Season was awarded with the Mattador International Screenwriting Award for the script.
The Film is produced by Taratata Films, Steppenwolf Film and GRAAL SA.
LATE SEASON
In the opening scene we are witness to an old man's lament about a world he no longer understands. Subsequent sequences gradually introduce us to various inhabitants of an unspecified southern Italian village and to the many bizarre situations in which the characters of the three vaguely adumbrated stories appear. Although some of them meet on a daily basis, we receives scant information about their relationships, let alone their lives, and with no plot context. Nevertheless, the tone generated by the artfully composed shots and musical accompaniment suggests something inauspicious, even subliminally disturbing. The film seeks to explore the typical Italian provincial world where the effort to be new and modern clashes with a commitment to deeply rooted traditions.
DANILO CAPUTO
Danilo Caputo (b. 1984, Taranto, Italy) studied music in San Francisco, liberal arts in Berlin, and philosophy in Naples. For his own production company, Taratata Film, he wrote and directed the award-winning shorts Dust (Polvere, 2008) and Banduryst (2009). In 2010 he participated in the Berlinale's Talent Campus. He also produced his first feature Late Season (2014), winning the Mattador International Screenwriting Award for the script. At present he is working on the short film The Provinces (Province).