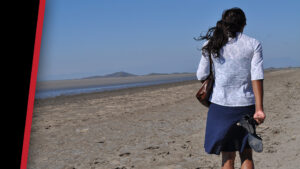 The Open Reel adds another Mexican production to its line up for Berlin EFM: Carmin Tropical, by Rigoberto Perezcano, author of Norteado (San Sebastian), produced by Cinepantera and Tiburon Filmes.
The film, winner at the Morelia International Film Festival in the Mexican Long Feature Film category, is a touching and mysterious at the same time story about coming back. Mabel returns to her hometown to find the murderer of her friend Daniela and finds herself on a journey that takes her through nostalgia, love, and betrayal in a town where transvestism takes on an unusual dimension in its day.
Rigoberto Perezcano was born in Zaachila, Oaxaca, Mexico. He started directing documentaries, but was always in awe with the dramatic and fictional possibilities that lie within the genre. His film XV In Zaachila participated in different festivals, receiving various national and international awards. In 2001, he worked as an intern for Rockefeller-MacArthur Ford to write the script of the project titled Carmin Tropical. Norteado was his first fiction film, and it was part of the 14th edition of "Construction Film" in the San Sebastian International Film Festival. The movie won three awards: "Industry Award", "Spanish Television Award", and "Casa América Award". He as finally now realised Carmin Tropical.