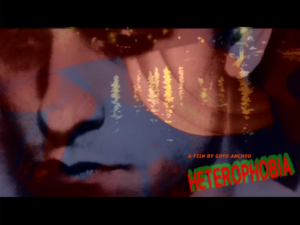 The Open Reel represents now worldwide the Argentinian experimental production Heterophobia, third long project by Goyo Anchou (Safo).
Winner of the Best Film Award at last Buenos Aires Transterritorial Underground Film Festival, Heterophobia traces the quick fall into hell of Mariano. A young gay man who, having been first raped and then rejected by an heterosexual friend with whom he had vague romantic illusions, has a sentimental journey from initial guilt and messianistic will of redemption, through flaring spite, up through castrating rage, before arriving to a final conclusion: that the the only possible action against patriarchy is revolution.
Graduated from Universidad del Cine, Buenos Aires. Author of various books focused on Argentinian film history. In 2003 he finished Safo, a remake of a classical argentinian movie of 1943 under guerilla film premises, done with his students from the film theory class at the Universidad del Cine. During the 2000s, he does several shortfilms and works as a programmer for the Mar del Plata Int'l Film Festival, in charge of the Argentinian independent production. In 2011 premieres La peli de Batato, codirected with Peter Pank (Best Film at the Rio Negro Film Festival). Heterophobia is his third film.