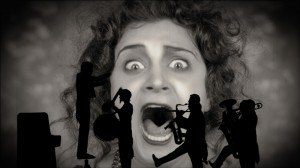 The Open Reel represents now a new title: the short film The Music Lovers by Matteo Bernardini.
The projection of a silent film takes a wrong turn when the accompanying piano player starts a furious competition with a Romani fiddler. This leads to a musical extravaganza at the expenses of the actors on the screen.
Matteo Bernardini (Turin, 1983) is an Italian filmmaker. After studying film direction in London he has worked as an assistant director on both film and Opera productions (with directors such as Robert Carsen and Michele Placido).
He shot several short films and music videos, including the promo Ooh Yeah! for American musician and dj Moby (which got international praise by audiences and critics alike) and the short film Vampyre Compendium starring Oona Chaplin and Vincent Montuel, presented out of competition at the Venice Film Festival, at the Rhode Island International Film Festival (Best Actress Award for Oona Chaplin) and selected at the 2011 David di Donatello Prizes.
In late 2010 he was selected as one of the 200 most representative Italian young talents for the first TNT Talents Festival, which got sponsored by the Italian Cabinet of Youth. He also appeared on the Young Blood Yearbook of that same year as one of the young Italian artist that got international recognition.
Matteo was recently called "The Next Big Thing" by Wired Magazine and he has been chosen by Microsoft on a European scale as an ambassador for their Generation 7 campaign, producing a short documentary on Youth and Technology titled Eyes Wire Open: portrait of a generation, which aired on Italian tv.
He is currently working on his feature debut.