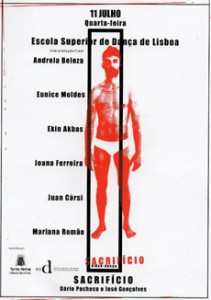 Five titles realised by Portuguese video artist José Gonçalves, some of them made in cooperation with dancer, choreographer and performer Dario Pacheco are now part of The Open Reel line-up.
Titles are: Sacrificio (2012), Material Love, Try Till Die, Desire and Rejection and No. 2743 (all produced in 2011).
José Gonçalves expressive territory includes graphic design, illustration, video and photography. His works are part of cultural spaces or galleries such as Dama Aflita in Porto, or STET, Espaço Queer and Materia Prima in Lisbon.