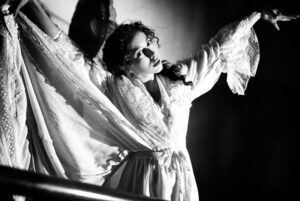 After acquiring The Music Lovers, the collboration between The Open Reel and Matteo Bernardini continues; The Open Reel represents now also Vampyre Compendium, a short film directed by Bernardini in 2010 and premiered at Venice Film Festival.
Produced by Michele Placido and starring Oona Chaplin e Vincent Montuel, Vampyre is an ironic take on classic vampire stories and makes fun of the clichés of the genre through settings and atmospheres à la Hammer.
Vampyre Compendium is now available for festivals and sales.