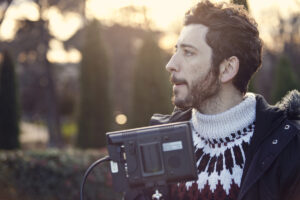 Two new productions realized by Spanish director Juanma Carrillo for the Open Reel.
Influences vol. 1 is a collection of three short films made in 2012, occasion of Fire! Festival in Barcelona and inspired by independent American cinema (Furry Boys), Italian classical one (La lettera), and by films from the best Spanish tradition (Estafa).
Nineteen Forty-one is the newest Carrillo's project and will be premiered as a world premiere in Naples during upcoming Magmart. The Open Reel represents the more narrative version of it, titled Nineteen Forty-one: Dark Extended Version.
In a year in which Marlene Dietrich was breaking all stereotypes as an actress and as a woman by becoming a US citizen and Orson Welles was presenting the best allegation on the loss of power in his masterpiece Citizen Kane, Europe was drained in an all-out war led by big dictators in which treason, death and violence corrupted all layers of society.
Nineteen Forty-one is a tribute to one of the hardest years in the history of the twentieth century.