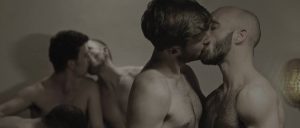 New acquisition for The Open Reel, dealing with duo Manuel Billi (Ghosts of Yesterday) and cinematographer, editor and director Benjamin Bodi on the short film ENTER, starring Félix Maritaud (120 Beats per Minute), Raphaël Fournier, Pavel Danko and Jean-Loïc François among others. The short film is now available for festivals booking and sales.
ENTER (France, 2018, 19′).
During a night of drinking, Raphaël arrives by chance in an apartment where an orgy takes place. Embarrassed, he locks himself in the bathroom where he will find a sleeping guy he knows pretty well.
Manuel Billi lives and works in Paris. Film critic and director, he has authored several essays on contemporary cinema. Since the year 2000 he has been collaborating with different Italian and French film magazines. In 2014 he directs his first experimental short film, Battre, enlever. His first fiction short, Ghosts of Yesterday (2017) was premiered at the Venice Film Festival. ENTER is his second fiction short.
Benjamin Bodi (1978, France) has degrees in drama, performance and photography. At the age of 22, he joined WAX, a Parisian collective of artists imbued with free jazz and surrealism. Two years later, as a programmer, he joined the management of Théâtre 347 in Paris and also worked as a public relation at the Comédie Française. From 2000 to 2012, he performed theater, dance and visual arts with David  Wampach, Christian Rizzo, Dora Garcia, Daniel Larrieu, Anne Zenour and Joao Fiadeiro. He has also participated in projects in these fields as a choreographer, playwright, co-writer and director. Video has always been more or less part of his work. He directed and presented a dozen experimental films in art festivals in France and abroad. In Saudi Arabia, he directed many documentaries based on the birth of a cultural dynamic, and continued this work in the Middle East by working with event companies. In 2015, he met director Manuel Billi, with whom he collaborated with Ghosts of Yesterday before deciding to co-direct their next film, ENTER.