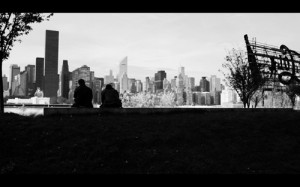 Set in New York City and realised with a budget of only 50.000$, Sheer by Italian Ruben Mazzoleni is a brillant first feature film debut revealing a rare talent.
The film is now part of The Open Reel Line Up and is available for festivals and international sales for almost all territories (except Italy and Argentina).
Nick and Joe are tow young men united by the bond of friendship, who aspire to survive together the streets of New York City. But when Joe sees an opportunity to start a new life away from the big metropolis, he puts Nick's life in danger leading to an uncertain predicament in which they will have to stick together more than ever to overcome their dreadful destiny.
Ruben Mazzoleni is an Italian filmmaker living in New York. His last short film directed in Italy, Redum, has been in competition in the Torino Film Festival. He has been assistant director for three years (from 2006 to 2008) for TV movies like Maria Montessori: una vita per i bambini directed by Gianluca Maria Tavarelli, and feature films like The Mother of Tears directed by Dario Argento and The Demons of St. Petersburg directed by Giuliano Montaldo. In 2008 he moved to New York, graduating from a two year master program in filmmaking at the New York Film Academy. His thesis film, Angels, has been in competition in several film festivals all around the world and won the Aloha Accolade Award at the Honolulu Film Festival. He recently finished his first feature film, entitled Sheer. Mazzoleni is now developing a new feature film titled Money Can't Buy Love.