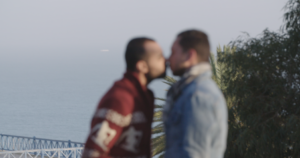 The Open Reel deals with Leyth Production for the acqusition of the Tunisian documentary Upon the Shadow, directed by Nada Mezni Hafaiedh and telling the stories of some people from the Tunisian LGBT movement with all the difficulties they have to face every day.
The film is now available for Sales anf Festivals circuitation.
Born on the 6th May 1984, Nada Mezni Hafaiedh was from an early aged exposed to different cultures due to her diplomatic parents. SaudiaArabia , USA, France, Canada represents a pool of developments of her passion for cinema.
At the age of ten, her hobby was already assumed, she used to produce amateur films and video clips by putting her friends and family as actors.
She goes to Montreal to finish her studies in business Administration, but soon changed her curriculum to follow her passion for filmmaking. Graduated from School of cinema in Montreal, she opened her production company to write and direct several projects which will be fast appreciated by the canadian community.
On her return in her country of origin, Tunisia in 2009 , she decided then to write her first feature film: Hekayat Tounisia (Tunisian Stories).