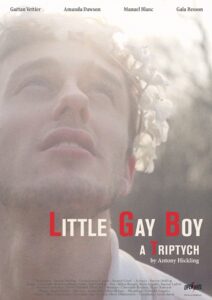 The Open Reel acquires rights for the international sales of debut long feature film Little Gay Boy, by Antony Hickling.
Little Gay Boy. The film is made up of three parts telling Jean-Christophe's story, an initiatory journey from birth through to ultimate re-birth. He is the child of a prostitute mother whom we meet briefly, and an absent father. As an adolescent, JC experiments with his sexuality and pushes the very limits of his identity until he finally meets the father he has fantasised about all his life. Moving between violent and dream- like fantasy worlds, JC's quest is to carve out his own path, meeting and slaying the demons of his past along the way.
Antony Hickling. Having originally trained at The Arden School Of Theatre in Manchester for 4 years, he went on to work as an actor in the UK before moving to France to complete his Masters Degree and PhD in stage arts, his chosen subject being Queer theory. Antony has since moved behind the camera, writing and directing a series of short films exploring the Queer theme. Up until now, all of his films have been self-produced and have made their way around independent film festivals world-wide, generating strong critical acclaim. Having recently worked on the latest Todd Verow documentary End of Cruising, he is currently directing his second feature.