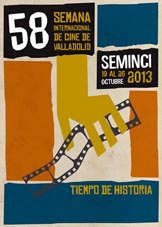 Disrupted by Roberto Fiesco has been selected at upcoming 58. Seminici, Semana Internacional de Cine in Valladolid.
Scheduled to take place from October 19 to 26 2013, the Festival is an important appointment for auteur films from all over the world.
Disrupted will be part of the Time of History section (out of competition).
Screening dates:
Sunday, Oct 20, 19:30pm, Broadway 11
Monday, Oct 21, 22:15pm, Broadway 11