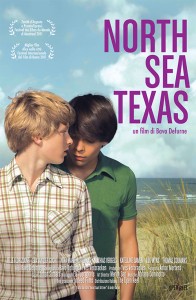 The Open Reel announces the first title from its Italian distribution catalogue: it is North Sea Texas by Bavo Defurne, winner in 2011 of the Alice nella città section at Rome International Film Festival and of Silver Zenith and Fipresci Award at Montreal Festival des Films du Monde.
NORTH SEA TEXAS. Pim lives with his ex-beauty queen, single mother in a small town on the Belgian coast. An introverted boy, Pim brightens up his days with drawing and dreaming up fantasy lives. He expresses his emerging desires through a secret collection of "borrowed" objects that he keeps in a shoebox.
With teenage years comes sexual awareness and he now draws and dreams of Gino, the older boy next door, his motorcycling hero. But this first love seems likely to end in disappointment.
Pim's mother, Yvette, has dreams of her own. Tired of unwanted suitors and bored with small town life, she longs to leave everything behind and to see the world. Pim and Yvette's dreams collide when handsome Zoltan arrives in town with the fun-fair and becomes their new lodger.
BAVO DEFURNE. Born in 1971 and a graduate of the St Lukas Art School in Brussels, artist, photographer and filmmaker, Bavo Defurne established himself as an exciting new talent with a sequence of critically acclaimed prize winning short films, that examine his regular themes of gay love and loss, the body and the power of nature and silence.
Campfire (2000) was a climax of Bavo Defurne's short filmmaking, receiving invitations to screen at major festivals and winning several prizes. It was bought for television by leading broadcasters including Canal+ in France and Channel 4 in the UK.
Bavo Defurne has achieved the rare feat of his shorts being released in a feature length compilation in cinemas and on DVD by leading independent distributors around the world, including Strand Releasing (USA), Mikado (Italy), British Film Institute (UK), Salzgeber (Germany) and Cinemien (Benelux). Bavo Defurne's work has also found its way into art galleries. In addition to its acclaim on the festival cir-cuit Saint (1997) is widely regarded as a highly significant artistic representation of Saint Sebastian, a figure who has inspired many artworks over centuries. It has shown at exhibitions in the Kunsthalle, Vienna and Sala Kubo-Kutxa in San Sebastian.
2011 sees the release of Bavo Defurne's long awaited first feature film, North Sea Texas (Noordzee Texas) which advances the themes of his acclaimed short films. The film gets two awards in Montreal and wins the Rome International Film Festival in the section Alice nella Città
Bavo Defurne summarises his filmmaking philosophy as follows: "I don't want to show people what they see when they look out their windows, I want to show what they can see when they close their eyes."
He lives in the port city of Ostend in Belgium, on the coastline where North Sea Texas was made.
More information will be available soon.