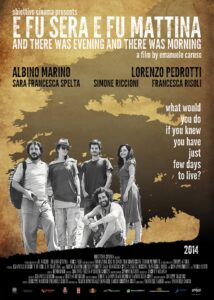 The Open Reel acquires rights for the international sales of And There Was  Evening and There WasMorning, the first long feature film directed by Italian Emanuele Caruso.
The film was internationally premiered at last Montreal World Film Festival.
A low-budget production, starring Albino Marino, Lorenzo Pedrotti, Sara Francesca Spelta, Simone Riccioni, Francesca Risoli, And There Was  Evening and There Was Morning is having getting already great distribution results and getting a grewing visibility in all the Italian territory.
And There Was  Evening and There Was Morning
In the main square of the town of Avila, everybody is celebrating the feast of Saint Eurosia, protector of earth's harvest. But something is happening in the village bar…
Emanuele Caruso
Born in Alba, Italy in 1985, Emanuele Caruso graduated from the National Cinema Academy of Bologna. He directed Una scelta di vita (2007) and Elogio alla solitudine (2010) before making his first documentary feature, MENO 100 CHILE, in 2013, shown iat many international festivals.