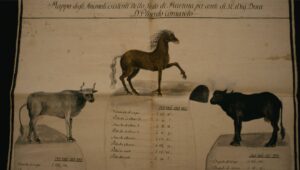 The Open Reel represents the Italian medium-lenght film Anapeson – Sleepless, directed by Francesco Dongiovanni and produced by the Apulia Film Commision, with the executive production of Murex Productions.
Just completed, the film is now available for international distribution and festivals circuitation purposes.
Count Karl Ulysses von Salis-Marschlins was a Swiss botanist and naturalist. He travelled widely observing and studying the lands he visited. In 1789 he travelled in the Kingdom of Naples. On returning home, he wrote a book about it. Here is how he described his visit to the "Casino del Duca" at San Basilio, the largest estate of Apulia, South Italy. "Anapeson" are these places, now, sleepless and abandoned within the distracted modernity. The History as ruins.
Francesco Dongiovanni (1978) lives and works in Apulia (Italy). He has been interested in ethnology, landscapes, archive, memory and anthropological cinema for a long time. He works for the production company Murex, which he founded with his collaborators.
His filmography also includes the medium-lenght films: Happiness Is a Densely Unpopulated Place , Elegies from the Beginning of the World – Of men and Trees and Giano.