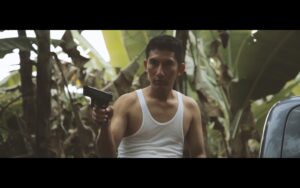 The Open Reel has acquired the international rights for sales and festivals booking of TIERRA VIRGEN, the new short film directed by GIOVANNI ALOI (Lives, Pan Play Decadence, Manhole, E.T.E.R.N.I.T.) written by NICOLÒ GALBIATI and produced by DAVIDE CASELLI.
The short stars  JOSE' MARIANO HERRERA GARCES, GLORIA ISABEL PINTADO MERINO DARWIN YANGUA ALVARADO ARNULFO CORTES CALLE JESICA YESENIA NEIRA HUACCHILLO, EDIL PINTADO MERINO
In a Peru choked by drug trafficking, more and more farmers decide every day to escape the yoke of organized crime, gathering in cooperatives. Tierra Virgen investigates the life of a farming family who is about to start walking on this legality's path. Nesto, as a teenager, lends a hand in the field of the parents even if would like to stay close to its peers. His father Eusebio , the old farmer, proud and tireless, he is persuaded by his wife Angelica to enter the local cooperative, but, just hidden by a wall of cane, continues to grow coca.
Giovanni Aloi (italian, born 22 October 1984) studied flm history and criticism at the Bologna University and Plastic Arts at the Paris VIII University. After graduating,  he started to work as a writer and camera operator for the italian TV show "Le Iene", seeking for unconventional stories that could shock the audience. Eventually, he focused his production on documentaries and first of all on biopics. He directed two flms: La Promessa, a true story that took place in the early Eighties about a football young rising star killed by heroin and Lives, a portrait of some of the biggest cinematic authorsm including Charlie Kaufman, Mario Monicelli and Michael Palin from the Monthy Python collective. In  2013 his first long feature project Pan Play Decadence, is premiered in Sheffield and distrubuted in Uk and Irealnd. His research is based on trying to offer viewers more space for imagination and self- refection. His recent short movie Manhole, produced and distributed in collaboration with Genova/Liguria Film Commission and Cineteca di Bologna, won the Best Short Film and the Young Jury Prize at Corto Dorico Festival. With his last short project E.T.E.R.N.I.T., Aloi has been awarded at the Venice Film Festival and has been nominated at EFA.