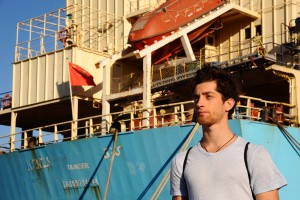 The Open Reel will represent Our Quarantine, the last long feature film directed by Peter Marcias (My Destiny, About Piera, Prince Niccolò, Wasn't Spain Catholic? and World above Head among others), about to be worldly premiered at 50+1 Pesaro International Film Festival (June 20-27), on June 27 at 10pm, in Piazza del Popolo.
The film, starring Francesca Neri and Moisè Curia is distributed in Italy by Istituto Luce Cinecittà, and is produced by CAPE TOWN Srl, in co-operation with ULTIMA ONDA and FONDAZIONE ANNA RUGGIU ONLUS, with the support of FONDAZIONE SARDEGNA FILM COMMISSION and the sponsorship of SARDEGNA SOLIDALE.
Our Quarantine (Italy, 2015, 80 mins.)
In the port of Cagliari, 16 Moroccan workers are governing a ship. They govern their work. They renounce, voluntarily, on their freedom, hoping to preserve their work and to recover the wages in arrears. The ship is their temporary home, where they sleep, eat, pray, observe Ramadan. In Rome a University teacher has "forced" a young student to follow this story. For reasons of study, but also for reasons of "life". Maybe Salvatore will learn something by this affair. Or maybe not…
Peter Marcias, is a film director and a screenplayer born in Sardinia.
He graduated in filmmaking and lives and works in Rome. He is the author of several documentaries, TV spots and short films such. Most of his works show a strong interest for a kind of cinema telling stories with social or political issues. The 2006 marked his debut in the Italian theatres with the collective long feature film titled Children (episode I Am Alice), produced by Gianluca Arcopinto and distributed by Pablo Distribution. This film has been selected in competition at Taipei Golden Horse Film Festival, Giffoni Film Festival, Istanbul and São Paulo. In 2007 Marcias realised Wasn't Spain Catholic?, a docu-fiction selected in competition at Turin GLBT Film Festival, at Venice Gays and at Madrid, Buenos Aires and Valladolid Festivals. In 2008, Un attimo sospesi was in competition at São Paulo International Film Festival and got an Italian theatrical distribution, with a good success of audience and press. In 2010 Marcias returns to documentaries shooting Liliana Cavani – A Woman in Cinema, presented at 67th Venice Film Festival in the Venice Days section and at Moscow Film Festival. The film also got a Nomination for the Italian Award Nastri d'Argento in 2011. In 2011 he also directed his second long feature film, Children of His Life, in competition (as the only Italian title) at 12nd Lecce European Film Festival: another good success of audience and press, the Italian Globo d'Oro for Piera Degli Esposti as a Best Actress and a nomination at Italian Ciak d'Oro. In late 2012, Marcias directed My Destiny, a long feature film produced by Gianluca Arcopinto and distributed in Italy by Pablo Distribution. The Film participated, among others, to Turin Film Festival, Mannheim-Heidelberg International Film Festival and Raindance. In 2013 Marcias has directed the documentary About Piera, on italian cinema, TV and theatre actress Piera Degli Esposti.