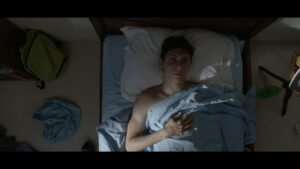 New acquisition for The Open Reel, representing now the Italian short film Twice, directed by Domenico Onorato and produced by Mescalito Film. The film, available now for festival bookings and sales, will be Italian premiered at the upcoming Torino Lovers and Prato International Film Festivals.
Twice tells of Diego, seventeen years old, full of life and fragilities, and Antonio, his best friend, who wants him to be strong and masculine. One night they meet Maria, a sea-born dark haired girl.
Diego is willing to do anything to prove to be a real man, even to go further, to the point he would have never wanted to reach.
Domenico Onorato was born in Naples, and he lives between Paris, Milan and Naples. Educated at the prestigious directing school Civica Scuola Paolo Grassi in Milan, he won the Giovani Realtà del Teatro Prize, and worked as assistant at Piccolo Teatro and at Teatro alla Scala in Milan. He also worked as director as well as assistant director with Giampiero Solari, Monica Nappo, Nicola Nocella. In the film industry he worked as assistant director for Marco Tullio Giordana.