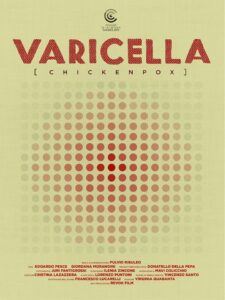 The Open Reel is happy to annunce that its latest acquisition Chickenpox (Varicella), directed by Fulvio Risuleo, and produced by REVOK S.r.l., Donatello Della Pepa, Loretta Isotton e Fulvio Risuleo, has just been awarded as BEST SHORT FILM at Cannes Critics' Week.
The Open Reel will be responsible for the film's festivals booking worldwide.
CHICKENPOX (Italy, 2015, 14′), with Giordana Morandini, Edoardo Pesce, Enea De Angelis
Chickenpox is a very small thing if you're young. But if you're a grown-up it can be very dangerous. When Mommy finds out, she starts worrying about Carlo, her son, who still isn't sick. He's growing fast, something must soon be done. She needs to find a way to 'make him' sick. But does Daddy agree?
FULVIO RISULEO
Born on January 30th, 1991 in Rome (Italy)
Filmography
2015 VARICELLA (CHICKENPOX) (S)
2014 LIEVITO MADRE (SOURDOUGH) (S)
2014 REPORTAGE BIZARRE (DOC S)
2013 GHIGNO SARDONICO (SARDONIC GRIN) (S)