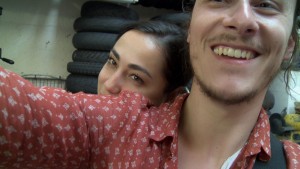 THE OPEN REEL @ 18th THESSALONIKI DOCUMENTARY FESTIVAL
~ The Open Reel will attend the 18th TDF from March 16 to 19 ~
To set up a meeting please contact:
Pierre Emö at festivals@theopenreel.com
Paola Cassano at sales@theopenreel.com
Official Selection – Stories to Tell:
IN CALIFORNIA
I N C A L I F O R N I A
A CHARLES REDON FILM // FRANCE | 2015 | 78′ | COL
Charles Redon immerses himself in his wife's environment, the ballet dancing, and starts documenting it. Slowly, he begins to understand that he can build a drama with his own life.
SCREENINGS
MARCH 17, 9:30 P.M. – Stavros Tornes
MARCH 18, 11:00 P.M. – Frida Liappa
___________________ VIDEO LIBRARY _________________
CLUB AMAZONAS
by ROBERTO FIESCO
Mexico, 2015, 19′, col.
Many types of legal and social oppression cause people to leave their homelands and including misogyny, homophobia, and transphobia.
The documentary Club Amazonas features two young transwomen from Honduras, Jessica and Angela, who seek tolerance and opportunity across the Mexican border while pondering the freedom and security promised by the U.S..
ANAPESON – SLEEPLESS
by FRANCESCO DONGIOVANNI
Italy, 2015, 40′, col.
Count Karl Ulysses von Salis-Marschlins was a Swiss botanist and naturalist. He travelled widely observing and studying the lands he visited. In 1789 he travelled in the Kingdom of Naples. On returning home, he wrote a book about it. Here is how he described his visit to the "Casino del Duca" at San Basilio, the largest estate of Apulia, South Italy.
YOUNG MAN MASTURBATING
WITH RAGE AND NERVE
by JULIAN HERNANDEZ
Mexico, 2015, 20′, col.
Dance and prostitution play the same role for Jonathan´s body; virtuosity, desire, technique, and sex intertwine, granting coherence to a way of life that offers many answers to few questions.
A leitmotiv that reconciles opposites and contradictions.
WASTE AFRICA
by MATTEO LENA
Italy, 2013, 33′, col.
Waste Africa is a cruel fairy tale about a little prince called Samsung. Fatherless, abandoned by his mother, Samsung will have to restore prosperity and future to his land, covered with garbage.
PASSEURS
by PAMELA VARELA
France, 2015, 150′, col.
Recounting the stories of several personal commitments, Passeurs outlines the key steps of an unprecedented mobilization, telling a story of AIDS which joins in with the wider field of social history. A film which tackles the essential work of coming to terms with our past.
FULBOY
by MARTIN FARINA
Argentina, 2015, 82′, col.
On the verge of achieving his dream career, Tomás allows his older brother Martín Farina an inside look at his life as a professional football player.
Fulboy offers an uncensored, confessional look at how the athletes behind the most popular sport in the world behave during their time off the field.
Full list of titles available theopenreel.com