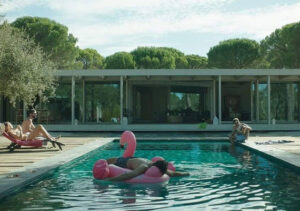 Portuguese director Vicente Alves do Ó's fifth feature, Sunburn (A golpe de sol), was presented in Locarno Pro's First Look programme. This year the section featured a special focus on Portuguese cinema (see the news), where six work-in-progress features were screened to industry professionals. Sunburn has now sealed a deal with The Open Reel, which will handle its international sales, while NOS-Lusomundo will oversee the movie's national distribution.
Written by Alves do Ó, the film is set in Grândola, southern Portugal, and follows four 40-year-old friends who decide to spend a weekend by a luxury pool. Their initial relaxed mood will not last long, as each of them receives a call from David, a former lover to all of them. After being absent for years, he decides to drop by for dinner at the holiday resort. Old stories and unfulfilled dreams will inevitably start to surface. Ricardo Pereira, Oceana Basílio, Nuno Pardal, Ricardo Barbosa and Rafael Gomes are playing the leading roles.
Produced by Pandora da Cunha Telles and Pablo Iraola of Lisbon-based Ukbar Filmes, Sunburn is aiming for a delivery by November. This is the second collaboration between the Portuguese production company and The Open Reel, having worked together on Alves do Ó's previous feature, Al Berto.