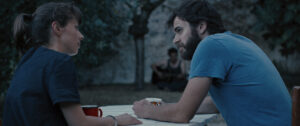 The Open Reel acquires the Belgian production La Deuxième, second feature film directed by Jelle Stroo (Egoïste, 2015). The feature is produced by Bureau Delstreau (Stephanie Delbecque, Jelle Stroo) and stars Gert De la Marche, Anne-Sophie Delhomme, Alix Vega and Julien Vieuloup among others.
SYNOPSIS
Jean Barreau leads a spiritual commune on the countryside with the promise of a second life. When their doubles arrive at the house, his followers learn that Jean meant this promise quite literally. However, not everybody is as easily swayed by their capricious leader, who eventually starts to question his own beliefs.
DIRECTOR
Jelle Stroo lives and works in Brussels, Belgium as a director and editor. La Deuxième is his second feature film, after Égoïste (2015), which had its international premiere at the Beijing International Film Festival.