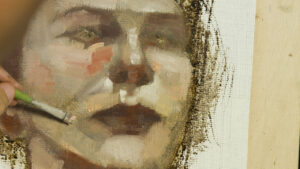 The Open Reel is happy to present its last production: the medium-length film Studio, directed by Francesco Dongiovanni (Anapeson- Sleepless).
With the executive production of Murex, Studio is a film on the work of the artist Pierluca Cetera.
In artist studio, the painted faces and figures slowly take shape. The eye and the hand at work seem chasing each other and weaving together. The moving image and the painting start mirroring and recalling, becoming one single element.
The film is now available for the festivals's circuit and for distribution.
Francesco Dongiovanni (1978) lives and works in Apulia (Italy). He has been interested in ethnology, landscapes, archive, memory and anthropological cinema for a long time. He works for the production company Murex, which he founded with his collaborators.
His filmography also includes the medium-lenght films: Happiness Is a Densely Unpopulated Place, Elegies from the Beginning of the World – Of Men and Trees, Giano and Anapeson-Sleepless.