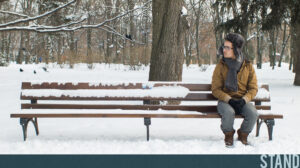 The Open Reel represents now the French production Stand, second feature film directed by Jonathan Taieb.
Dealing with the story of an homosexual couple living in the contemporary Russia, Stand was premiered at last Frameline and is already having a big festivals circulation.
STAND
After taking a wrong turn in their car, a young gay Russian couple witnesses what they believe is a vicious gay bashing. The slow-burning film is highly topical, given the intense worldwide outrage over Russia's mistreatment of gays and the country's 2013 federal law prohibiting homosexual "propaganda." Anton and Vlad make a handsome pair, sharing a loving and natural chemistry in the comfortable privacy of their Moscow apartment. For Anton, the burden of what they may have witnessed outweighs Vlad's fear of probing too deeply into the incident. Anton talks his skeptical lover into launching their own amateur investigation into the hate crime. Their risky search for the truth has unexpected and grim consequences.
JONATHAN TAIEB
Jonathan Taieb started his career on several projects in the Provence region as a cameraman, assistant director, set decorator, among other roles. He directed his first short film, Vivre la bête when he was 19 before writing, directing and producing several other shorts. His filmography includes: 2012 – Le monde doit m'arriver? (Feature Film), 2010 – Arthur, mon héros (Short), 2008 – Tu seras un clown, mon fils ( Short).