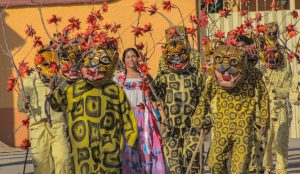 The Open Reel deals with IMCINE – The Mexican Film Institute for the acquisition of 2 new short films: The Other Side (Al otro lado), directed by Rodrigo Álvarez Flores and produced by Rodrigo Álvarez Flores, Sarahí Castro, Luisa Gómez de Silva and The Tiger's Fight (El tigre y la flor), directed by Denisse Quintero and produced by Paola Rivera Pérez, Oscar Salazar (IMCINE, Agentes Secretos, Diva Films).
The two shorts are now available for sales and festivals booking.
THE OTHER SIDE (2016, 15′, col)
AVAILABLE FOR A WORLD PREMIERE
Felipe and Claudio form a very particular relationship, somehow destiny pulls them apart taking Claudio to the United Sates, now Felipe must embark on a journey where he will risk everything in his pursuit of happiness, so he can finally meet Claudio at the other side of the border.
Rodrigo Álvarez Flores raised in Tijuana México, where he graduated with a bachelor's degree in Filmmaking at the University of las Californias, where his school projects "Luciano" (2012) and his film thesis "Memín: Portrait of a Boxer" went up to participate in dozens of Film Festivals including the Havana Film Festival, and winning the San Diego Latino Film Festival and the José Rovirosa award Honorable Mention in 2014. He went up to make "Viaggio" (2014) as his next short winning the award for best short at the "Discover Baja Festival" organized by the Film Comission of Baja California."The Other Side – Al otro lado" (2016) is his most recent work and winner of the 1st regional production fund produced by the Mexican Institute of Cinema (IMCINE). The stylized of portrayal this LGBT boarder love story launches Rodrigo's craft to new heights and is based on his feature film script titled "Al Norte" (Up North) which is currently in early development
THE TIGER'S FIGHT (2016, 16′, col.)
Mix Mexico, Shorts, Mexico, La Habana Latinamerican FF, Morelia Int'l FF.
After a year of drought, Nicolas and Pablo, best friends, prepare for "The Tigers' Fights", a prehispanic ritual where the village men fight each other to imitate thunder and foster the rain, hope of a good harvest. Some of the tigers also deliver commitment flowers to a girl as a sign of love. This year, Nicolas has decided to offer flowers not to a girl, but to Pablo.
Denisse Quintero is a writer graduate of the Film Training Centre. She has served as writer and producer of several short films. She has participated in international meetings as a Founding member of Secret Agents where he developed multiple fictions and documentaries. She wrote and directed the short film Carreteras in 2013 presented at the Festival de Cine Iberoamericano de Huelva in the same year. Her project,The Tiger's Fight – El Tigre y la Flor (2016) won the Development Grant from IMCINE.