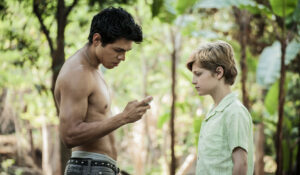 The Open Reel deals Pisito Trece Producciones for the acquisition (sales and festivals booking) of the debut feature film Cuernavaca, directed by Alejandro Andrade Pease and shot in Xochitepec, Cuernavaca, Apotla, Morelos and Mexico City.
The film stars Carmen Maura, Emilio Puente, Moisés Arizmendi (Gloria) and Mariana Gajá (No quiero dormir sola) among others and it is co-produced by Cinema Máquina, Home Films and EFD.
Andy´s world changes completely when his mother has an accident. When there is no one to take care of him, the boy is taken to Cuernavaca to his paternal grandmother´s house. While her mother is battling between life and death, the child will face the rejection of his grandmother, the seductive and dangerous world of the son of the
gardener and will the search for his father.
Alejandro Andrade Pease was born in Mexico City. He studied communication at the Anahuac University in Mexico City, and filmmaking at the CUEC, the Film School of the National University of Mexico (UNAM). As a director he has worked on documentaries for TV Española (Spain) and ONCETV (Mexico). His screenplay prizes include the 1998 prize of the Mexican Film Institute (IMCINE) for Esta hermosa cadena. His short film Juego de manos (2004) was selected in over 20 international film festivals, including Clermont-Ferrand, the Melbourne International Film Festival, and the 2004 Berlinale Panorama section. It received the Best Project award in Spain's SGAE in 2005, and at Mexico's Este corto sí se ve.