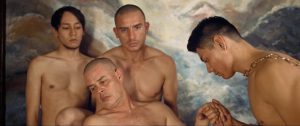 THE OPEN REEL PICKS UP ROTTERDAM BRIGHT FUTURE COMPETITION'S
WILLIAM THE NEW JUDO MASTER BY RICARDO SILVA AND OMAR GUZMAN
The Open Reel deals with Paulina VALENCIA and Ricardo SILVA (Spécola), Omar GUZMAN (Julia Pastrana), Geminiano PINEDA (Cine Caníbal) for the acquisition of WILLIAM, THE NEW JUDO MASTER, second feature film directed by Locarno's Golden Leopard winner Ricardo SILVA (Navajazo, 2014), together with Omar GUZMÁN.
The film, starring William CLAUSON, Hoze MELENDEZ, Edward COWARD, will compete, as international premiere, in ROTTERDAM, in the BRIGHT FUTURE competition and it's a winner of the LOS CABOS IN PROGRESS, where it also had its first screening.
The film is now available for sales and festivals booking.
WILLIAM, THE NEW JUDO MASTER (William, el nuevo maestro del judo, Mexico, 2017, 96′) portrays the universe of an eternal being that exists within a lifecycle filled with disappointments and hopelessness. It's the chronicle about the search for love and the fight against oblivion.
"What do the oldest tree in the world, the devil and singer William Clauson (La Bamba) have in common? In this docu-fiction on transience, directors Ricardo Silva and Omar Guzmán manage to make this a completely logical combination.
Back in the 1950s, Swedish-American singer William Clauson had a worldwide hit with La Bamba. Now he lives in a ramshackle garage in Tijuana, Mexico. In William, the New Judo Master, directors Ricardo Silva and Omar Guzmán show how a Mexican nurse washes his naked old body. "How did we get here?", a voice-over muses. "What road led us here? When did we take it?" This fascinating film essay is about the struggle against time, old age and transitoriness.
Silva's debut film Navajazo (2014) was already a hybrid form of documentary and fiction, but here (with Guzmán) he goes further, producing a surrealist collage. For example, going on a trip to the oldest tree in the world. Or having a middle-aged actor play Clauson, while he is visited by three male prostitutes. Meanwhile, the devil looks on, eyes glowing red."
"Docu/fiction hybrid William, The New Judo Master is a clever blend of fiction and reality that pays homage to filmmakers like Werner Herzog and Luis Buñuel. Set in Tijuana, it's an abstract take on an endless life cycle. This is more of an existential journey than an 80 minute linear narrative, so it may be best for "enhanced" viewing, if you get me. But directors Ricardo Silva & Omar Guzmán turn out a mindfuck that questions reality and acts as a gripping search for love." (DAZED & CONFUSED)
RICARDO SILVA (1984, Mexico) made his first short film, Issbocet, in 2006. His feature film debut came eight years later with Navajazo (2014). Silva's second feature film, William, the New Judo Master (2006), has its international premiere at IFFR and was made in collaboration with Omar Guzmán, his mentor. Among his recents projects, Navajazo (2014), Willliam, el nuevo maestro del judo/William, the New Judo Master (2016, co-dir)
OMAR GUZMÁN started his career in film as an editor and is now internationally renowned for his work with a variety of directors. He's been Ricardo Silva's mentor for a decade and collaborated with him in Navajazo (2014) as editor and screenwriter. Guzmán's directorial debut, William, the New Judo Master (2016), is another collaboration between him and Silva.
Screenings
Thu 26 Jan – 09:15 – Pathé 6 (Press Screening)
Thu 26 Jan – 19:30 – Pathé 3
Fri 27 Jan – 14:15 – Cinerama 5
Mon 30 Jan – 17:00 – LantarenVenster 2
Wed 1 Feb – 20:30 – Kino 3