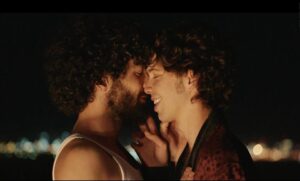 The Open Reel deal with Portuguese production Ukbar Filmes (Pandora da Cunha Telles and Pablo Iraola) on the acquisition of Al Berto, fourth feature film directed by Vicente Alves Do Ó, starring Ricardo Teixeira, José Pimentão, Raquel Rocha Vieira, José Leite, Gabriela Barros and João Villas-Boas among others.
Just released in Portugal, the film is now available for festivals booking and international sales.
AL BERTO
The film takes us back to 1975, when the winds of change were blowing over post-revolutionary Portugal. Al Berto returns to his small village, Sines, after several years in Brussels, where he was trained as a painter. Now, he is a wannabe poet who will soon bewitch some of Sines' youngsters, just as he will incur the wrath of the most conservative locals. Settling illegally in a mansion that had been expropriated from his family during the revolution, young Al Berto begins to hang out with locals who share his interest in the arts and dream of a different life. Among them is João Maria, who will soon become Al Berto's lover. He was, in real life, the director's older half-brother. Together, Al Berto and João Maria will go on to provide Sines with its well-deserved trendy scene, its movida, which included the opening of a bookshop downtown, and some extravagant parties at the old mansion.
VICENTE ALVES DO Ó
Vicente Alves do Ó was born on January 2, 1972 in Setúbal, Portugal. He is a writer and director, known, after directing some short films, for his features Florbela (2012), O Amor é Lindo … Porque Sim! (2016) and Quinze Pontos na Alma (2011).