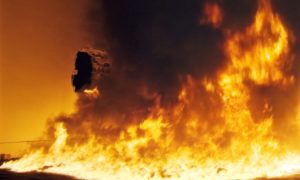 The Open Reel acquires the Belgian/Slovakian production The Flower Shop (La fleurière), directed by Ruben Desiere and produced by Accattone Films, with Mandala Pictures (SK), Beursschouwburg (BE), Popiul (BE), Radio and Television Slovakia (SK) and supported by Vlaams Audiovisueel Fonds (VAF), Centre du Cinéma et de l'Audiovisuel de la Fédération Wallonie-Bruxelles, Slovak Audiovisual Fund, Ministry of Culture of the Slovak Republic, Vlaamse Gemeenschapscommissie, Fonds Pascal Decroos.
Starring, Tomàš Balog, Rastislav Vaňo, Vladimír Balász and Bartolomej Mroč, the film will have its International Premiere at the upcoming Rotterdam International Film Festival (Jan. 24 – Feb. 2), where it has been selected for the Bright Future Competition.
In the back room of a flower shop, Tomi, Rasto and Mižu are digging a tunnel in order to break into the safe of the National Bank. After heavy rainfall, the underground maze gets submerged by water and they are forced to stop working.
Ruben Desiere (1990, Belgium) studied film in Ghent. In 2014 he finished his master's with Kosmos. The creative documentary was shown as a mid-length film in IFFR. Desiere is co-founder of the production company Accattone Films and of Sabzian, a Belgian website on film.
Filmography
Kosmos (2014, mid-length doc), La Fleurière/The Flower Shop (2017)