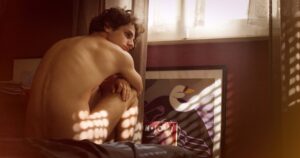 A new Italian title is part of our Line Up: the short film Loris is Fine, directed by Simone Bozzelli, with Andrea Arcangeli, Manuela del Beato and Milutin Dapcevic and produced by Mattia de Marco, Guido and Simone Bozzelli.
Loris is twenty years old, naive and in deep need for affection. He is in his room, waiting for someone he doesn't know. A HIV-positive man he met online is willing to transmit his disease to him. The virus becomes a powerful ally for Loris to gain a much desired symbiosis in his relationship with Valerio – his HIV-positive boyfriend.
Simone Bozzelli was born in 1994 in Silvi, a small town near Teramo (Italy). As a child, he feeds his passion and interest for moving images thanks to the local video library, where he used to spend whole days watching films. After high school he moves to Milan, where he graduated from Nuova Accademia di Belle Arti (NABA) in Media Design and Multimedia Arts. In 2015, his first short film My Brother – Mio fratello won the Bologna Youngabout Film Festival and the Flaiano Award, and collected several participations at other national and international film festivals. In 2017, he writes, produces and directs Loris Is Fine – Loris sta bene, his graduation project.