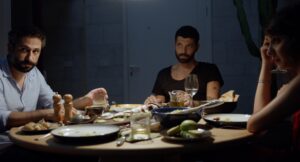 The Open Reel deals with Lebanese director and producer Roy Dib (Mondial 2010, Teddy Award for the Best Short Film at Berlinale 2014) for the acquisition of his first long feature film The Beach House (Beit El Baher, 75′).
The film, written together with Raafat Majzoub, and produced with Aya Al Blouchi, stars Sandy Chamoun, Nesrine Khodr, Rodrigue Sleiman and Julian Farhat. 
Rayya invites Youssef and Rawad, two friends she hadn't seen for over 10 years, for a gathering at her family's beach house in Lebanon that she now shares with her older sister Leila. Rayya has made her singing hobby a weekly ritual where she invites a selected audience to watch her perform at the house. The film starts as the performance ends, and Rayya urges her friends to stay for dinner. The four have things to hide and things to perform. Condensed within the beach house – an active fifth character – a casual dinner becomes a ritualistic rite of passage where the characters feast on the building blocks of their personal and communal identities.      
Roy Dib
Born in 1983, Roy Dib is an artist and filmmaker that works and lives in Beirut, Lebanon. His work focuses on the subjective constructions of space. His latest short film Mondial 2010 (2014) won several awards including the Teddy Award for the Best Short Film at the 64th Berlinale, Best Short Film at Queer Lisboa International Film Festival, and the Uppsala Grand Prix at Uppsala International Short Film Festival. His latest video installation, A Spectacle of Privacy debuted at the Exposure 2015 show at the Beirut Art Center and then featured at the Berlinale's 2015 Forum Expanded, Queer Porto 1  (2015), Images Festival in Toronto (2016), and won an award at the Contemporary Art Festival SESC_Videobrasil (2015).