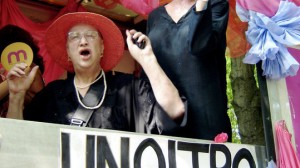 THE OPEN REEL ACQUIRES INTERNATIONAL RIGHTS OF
THE ITALIAN DOCUMENTARY
A NOBLE REVOLUTION by SIMONE CANGELOSI
with MARCELLA DI FOLCO
PRODUCED BY CLAUDIO GIAPPONESI and LUCA BUELLI for KINE' and PIERROT LA ROSA, in collaboration with SIMONE CANGELOSI
ITALY, 2014, 83′,
AVAILABLE FOR SALES AND FESTIVALS
SYNOPSIS
In the aftermath of the death of Marcella Di Folco, which took place in 2010, Simone Cangelosi, director of the film, embarks on a journey that takes him from Bologna to Rome, Marcella hometown, to start a search to discover people, places and memories able to return to him the complexity of the figure of his friend.
A Noble Revolution aims to decipher the historical dimension of one of the most prominent personality of the Italian political movement for civil rights of the last forty years, Marcella Di Folco, leader of the
MIT (Transsexual Identity Movement).
The reconstruction of the film, however, does not want to be 'objective', but done through the filter of an intimate relationship, that
one between the director himself and the protagonist.
SIMONE CANGELOSI
Simone Cangelosi, born in 1968, holds a degree in History of Cinema and Filmology. He has an eclectic training in visual fields that began with photography. Archivist, from 1998 to 2010 he worked as a technician for the Film Library of Bologna, restoring a
significant number of important films in the world history of cinema.
In 2007 he directed the autobiographical documentary From head to
toe, which was shown among others at the International Film Festival of Pesaro and the Turin LGBT Film Festival. The film was shot along almost 9 years and records his gender transition from female to male. In 2010 he co-­‐directed Felliniana that contains last interview realised by Marcella Di Folco, about her experience as Fellini's actor like in Amarcord.