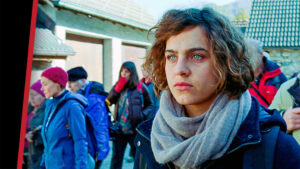 The Open Reel acquires Il nido (The Nest) by Klaudia Reynicke, premiered at last Locarno Film Festival (Filmmakers of the Present).
A Swiss-Italian co-production, Tiziana Soudani for Amka Films, with Tempesta and the support of RSI Radiotelevisione Svizzera and RAI Cinema, the film stars Ondina Quadri , Fabrizio Rongione , Diego Ribon , Sonia Gessner , Giovanni Franzoni and  Luigi Diberti among others.
Cora, a 19-year-old girl, has recently returned to the place where she spent her childhood, Bucco. She is helping her father Michele, mayor of the town, to organize the celebrations for the Feast of the Virgin of Bucco, an annual event which attracts many Roman Catholic pilgrims and tourists. But the arrival of the mysterious Saverio gradually upsets the harmony of the "holy" place, unearthing a crime committed by the villagers 40 years before.
Klaudia Reynicke is a Swiss-Peruvian filmmaker, who grows up in Peru, the USA and Switzerland. Before turning to film, she studies the plastic arts, anthropology and sociology. She directs several documentaries including Is This How Men Are? (¿Asi son los hombres? – 2013) and Mermaids (2014). Il nido (2016) is her first fiction feature.
The film is now available for sale purposes and festivals booking.