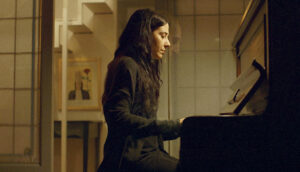 New acquisition for The Open Reel, dealing with Bidou Pictures and Gaia Furrer for the acquisition of Padre(Father), the latest feature film directed by Giada Colagrande, who also stars in the film together with Willem Dafoe, Franco Battiato and Marina  Abramovic.
Padre will have its WP at the upcoming Morelia International Film Festival in the Special Screenings Festival's section and its European premiere at Lisbon & Estoril Film Festival.
Padre  tells the story of Giulia who just lost her father, the great composer Giulio Fontana. Through music, he communicates with her in another dimension and leads to an invisible world.
With studies in Italy, Switzerland and Australia, Giada Colagrande began her career in video art, making documentaries on contemporary art and short fiction. In 2001, she presented her first feature, Aprimi il Cuore (Open My Heart), at the Venice Film Festival, winner of the Prix de l'Avenir in Paris Cinema 2003.
After this first work, Giada Colagrande directed other films like Before it Had a Name (The Black Widow) (2005), presented at the San Sebastian Festival and the Venice Film Festival; A Woman (2010), starring Willem Dafoe and premiered in Venice and Bob Wilson's Life & Death of Marina Abramovic, a documentary about the opera directed by Wilson, based on the biography of Abramovic, starring Abramovic, Wilson, Dafoe and Antony Hegarty. Her collaboration with the artist continued with The Abramovic Method (2013). In 2014, she starred in Abel Ferrara Pasolini and Castello Cavalcanti, a short film directed by Wes Anderson.