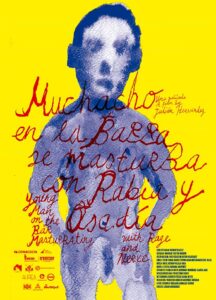 During the last EFM, The Open Reel has secured from IMCINE the last two productions by Mil Nubes Cine and directed by Roberto Fiesco (Disrupted) and Julian Hernandez (I Am Happiness on Earth): the short film Tremulo and the short documentary Young Man at the Bar Masturbating with Rage and Nerve.
Both titles will be premiered at upcoming 30 Guadalajara International Film Festival FICG, where they will compete for the Best Iberoamerican Short Film Award and for the Maguey Award.
In Tremulo, Carlos sweeps and mops the floor of an old-time barbershop. The day before the Independence Day, among the customers there is Julio. Their eyes meet, and when the barbershop closes Julio comes back for Carlos. They spend the night together, eating, chatting and even dancing, knowing full well that this encounter will be brief and short-lived.
In Young Man at the Bar Masturbating with Rage and Nerve, dance and prostitution play the same role for Jonathan´s body; virtuosity, desire, technique, and sex intertwine, granting coherence to a way of life that offers many answers to few questions; a leitmotiv that reconciles opposites and contradictions; answers that are sometimes painful, like all truths.