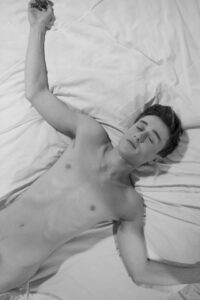 Little Gay Boy by Antony Hickling will be part of Ecrans Mixtes next edition, taking place in Lyon on next December.
 The film, a tryptich, will be screened on Friday Dec 13rd at 8:00pm.
The film is made up of three parts telling Jean-Christophe's story, an initiatory journey from birth through to ultimate re-birth. He is the child of a prostitute mother whom we meet briefly, and an absent father. As an adolescent, JC experiments with his sexuality and pushes the very limits of his identity until he finally meets the father he has fantasised about all his life. Moving between violent and dream- like fantasy worlds, JC's quest is to carve out his own path, meeting and slaying the demons of his past along the way.
info: http://onlypornlyon.tumblr.com/post/67044619473/vendredi-13-decembre