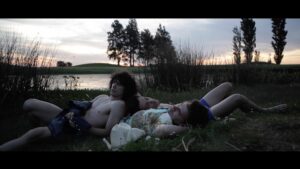 The Open Reel gets international rights from TLA Releasing of Argentinian production Jess & James, directed by Santiago Giralt, one of they key figures in Argentinian cinema, also well known as writer, producer, actor, playwright and novelist.
The film, winner as a WIP at last Asterisco Buenos Aires, is now available for sales and festivals booking.
JESS &JAMES
Jess is a bohemian youth with secrets to hide from his shrewd parents. James feels trapped living with his irritable mother. After meeting for a sexual encounter, the two young men set off on a spontaneous road trip across rural Argentina to reunite with Jess' estranged brother. On their journey, they confront strange occurrences and engage in a ménage à trois affair that brings them closer. Their newly found affection grows, all while discovering a fresh vision of freedom and happiness. Jess & James is a sexually charged road-trip movie, a love story, and a coming-of-age tale, set against the mythical landscape of the Argentinian Pampas.
SANTIAGO GIRALT
He studied Film Directing at the Universidad del Cine. He lived in Vancouver for one year in 2002. His movies have been presented in many international film festivals: Cannes, London, Rotterdam, Locarno, Buenos Aires. He has written, directed and produced five movies: UPA! An Argentinean Movie, The L. Sisters, All The Lonely People, Before Opening Night and Anagrams. He has written many screenplays for other filmmakers and has won international prizes. He is one of the five most important screenwriters of the past decade in Argentina and was a finalist for the National Screenwriters Prize.